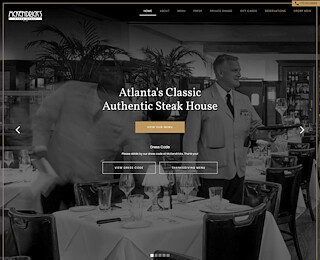 Many people choose to spend their free time browsing, shopping and taking in the sights at their favorite shopping malls. Several high-end shopping malls offer exclusive dining experiences that many individuals visit just for that specific purpose. McKendrick's Steak House is one of the finest Perimeter Mall Restaurants that has ever been located here, and we offer the most flavorful and indulgent cuisine that's available in the mall and in the city. Whether you are searching for a great place to enjoy your lunch while shopping, or if you want a special and memorable night out, we fit into whatever your plans may be.
The Perimeter Mall is the ultimate destination that can cater to all of your shopping, dining and entertainment requirements. Out of all of the Perimeter Mall Restaurants that are available, McKendrick's Steak House stands out from the rest and provides our clients with a sophisticated and cosmopolitan dining experience. For over the last twenty years, we have taken the taste and appearance of food to the next level, by developing fresh, unique approaches to the preparation and presentation of our exclusive appetizers, entrees, side dishes and desserts.
We also have an amazing selection of salads and soups that will be sure to complement your dinner selections, such as our own version of home-made crab bisque and our signature French onion soup. If you're looking for a rare treat for a salad, why not try our unbeatable seafood salad that includes generous portions of shrimp, blue crab and king crab, as well. We also offer a full selection of chilled seafood and our raw bar is the envy of other restaurants from all over the state. Our appetizers are also something to speak about, as we provide carefully prepared selections, including our baked escargot, jumbo shrimp, lobster tails and so much more.
We also offer amazing lunch and dinner choices that are sure to please even the most discriminating preferences and tastes. Our lunch selections feature different signature courses for you to choose from, and they should all include one of our scrumptious desserts. Dinner is served every evening, and includes a variety of menu selections, such as our USDA prime beef entrees, several choices of wild-caught, fresh seafood delivered daily, a wide variety of garden-fresh vegetables and over twenty selections of side dishes. You'll want to save room for dessert, as our highly skilled chef has created indulgent pies, cakes, cobblers and more to choose from.
If you are looking at Perimeter Mall Restaurants for your next dining experience, but want to try something a little bit different that offers a whole lot more, McKendrick's Steak House fits the bill. We are conveniently located within the mall, and we provide extended dining hours on the weekend. Lunch is served daily, Monday through Friday, and dinner is served every evening, including Sunday and Monday. You can make your reservations online, and if you're planning on a special event, you can even book your private dining room quickly and easily.
McKendrick's Steak House
7705128888
4505 Ashford Dunwoody Rd, Atlanta, GA 30346
View Larger Map