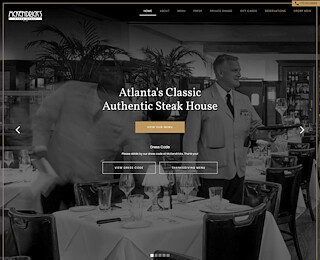 Upscale and elegant dining used to be something that was saved for an extraordinary occasion, such as a wedding party, an anniversary or any other memorable event. But as the world changes, so do we, and in this face-paced society, it's essential to take a moment and cherish it for what it is. Atlanta is famous for its fine dining, and McKendrick's Steak House is renowned for providing exclusively unique Fine Dining in Atlanta.
Whether you are fortunate enough to live in this area, or perhaps you're here for a holiday or a business convention, going out on the town wouldn't be complete without stopping by McKendrick's Steak House, the leading establishment for Fine Dining in Atlanta. Our world-famous chef and highly skilled kitchen staff create nothing short of art when it comes to providing the freshest and most indulgent appetizers, meals and desserts. We also offer private dining rooms that can accommodate any special event or gathering that you are planning on hosting.
Our Menu
McKendrick's Steak House offers an extensive selection of lunch and dinner menu selections that provide tasty and tempting meals that are sure to please even the most discerning palates. All of our ingredients are hand selected and inspected to ensure only the freshest and most desirable food will be prepared and presented to your table. Our extensive, award-winning wine list offers dozens of celebrated wines which you can order by the glass or by the bottle.
When we think of Fine Dining in Atlanta, we usually imagine putting on our most beautiful clothes for a night on the town, which includes a memorable dinner. At McKendrick's Steak House, we have taken that thought and have decided to offer an alternative option for those who are searching for an indulgent lunch where you can relax and enjoy time away from your daily routine. Our exclusive lunch menu creates a fine dining experience that is as impressive and remarkable as our dinner menu.
McKendrick's Steak House chooses only the freshest ingredients for all of our signature selections on our menu. If you are looking for a great steak, you can be sure that our hand-cut, USDA prime beef is nothing less than spectacular. Every one of our steaks and chops is aged to perfection and are complemented by our in-house seasoning mix.
If you're in the mood for a delectable seafood meal, you will be pleasantly surprised when you discover that McKendrick's also specializes in creating the most appetizing and delicious seafood dinners and raw bar items. All of our seafood selections are wild caught and delivered right off the boat every day, ensuring only the highest quality and freshest selections.
You can book your lunch, dinner or private dining reservations anytime by merely leaving your contact information, and the time you would like to arrive. Our full menu is provided by clicking our menu link, for a full view of our lunch and dinner selections. You can also book your reservations by just giving us a call.
Fine Dining Atlanta
McKendrick's Steak House
7705128888
4505 Ashford Dunwoody Rd, Atlanta, GA 30346
View Larger Map