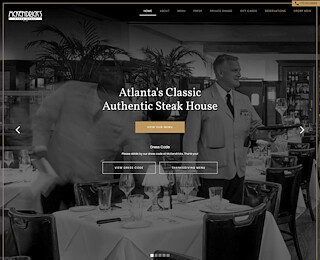 McKendrick's Steak House is considered the Best Steakhouse in Dunwoody GA, and we invite you to experience our passion for seasonal ingredients, diverse selections, and innovative flavor combinations. The finest in prime steak, freshest seafood and signature dishes await those who are searching for the ultimate dining out experience that they have ever encountered. Our world-renowned chef and experienced kitchen staff leave nothing to chance and pay attention in great detail to provide you with the ultimate dining experience.
When you want to go out and enjoy a finely crafted, high-quality dinner, and only the freshest and most flavorful steak will fit the bill, McKendrick's Steak House is recognized as the Best Steakhouse in Dunwoody GA and throughout the entire region. All of our signature cuts of USDA prime beef are hand-selected, hand-cut, thoroughly inspected and then aged to their peak of perfection. If you have never had the experience of enjoying a genuinely incredible steak dinner in a high-end dining establishment, you will be thoroughly amazed by what our chef can create for you.
The US Department of Agriculture has stringent guidelines for if and when a cut of beef can qualify as being USDA prime and less than 2% of the nation's beef supply can be categorized to this distinction. Prime beef receives its title only when the beef shows a smaller, tighter texture, a highly scored marbleization throughout the entire cut of beef, and a favorable color. This is why McKendrick's Steak House always selects only the finest cuts of steak that are derived from younger beef, giving it a more tender, juicy and flavorful characteristic.
Although McKendrick's Steak House is most famous for our remarkable steak dinners, we don't let our creative abilities stop there, because we also offer some of the freshest, wild-caught seafood available. We also have a top-rated raw bar that offers up some of the finest cold seafood specialties, such as our classic and generous shrimp cocktail, our signature chilled west coast oysters and the most delicious Pacific tuna tartar for the more discerning palates.
We also offer our unique seafood salad that includes fresh, crisp vegetables and an abundance of blue crab, king crab, and shrimp, for the most delicious salad you have ever eaten. To complement your main entree, we provide over twenty homemade signature side dishes, such as sautéed large mushrooms, fresh, creamed spinach, wild onions, and asparagus, just to name a few. As a special treat, we have our in-house pastry chef who is always creating new and exciting dessert selections that are too tempting to resist.
So, when you are looking for an exhilarating and unique dining experience, McKendrick's Steak House is merely the very Best Steakhouse in Dunwoody GA. Whether you are in the mood for a relaxing lunch out with your friends, or a great steak dinner any day of the week, you can always expect the best food and service from our fantastic restaurant.
Best Steakhouse In Dunwoody Ga
McKendrick's Steak House
7705128888
4505 Ashford Dunwoody Rd, Atlanta, GA 30346
View Larger Map