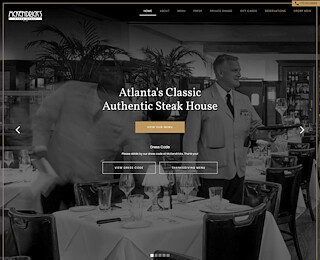 McKendrick's Steak House focuses on providing our guests with the highest quality steaks and chops available. Each USDA prime and choice steak is aged directly on our premises and is hand-cut daily by our world-famous chef to ensure consistent quality. Recognized as the Best Steakhouse in Atlanta, we have been serving up delicious and flavorful, skillfully prepared steak dinners for those who truly appreciate what a good steak should taste like.
McKendrick's Steak House is an award-winning eating establishment that prides ourselves on offering the finest cuisine in the Metro area. When people refer to our restaurant as the Best Steakhouse in Atlanta, we continually strive in keeping our impeccable reputation well established and well deserved. For over the last twenty years, we have been providing an authentic steakhouse experience that offers the most exciting and unique features for a truly great experience.
USDA Prime Beef
"Prime" is the highest quality grade designation for beef from the U.S. Department of Agriculture in terms of tenderness, juiciness, and flavor. This quality grade is determined by maturity and marbling scores, with abundant marbling being required in order to achieve this distinction. Only 2% of the country's beef supply can earn the title of "prime". McKendrick's Steak House uses only USDA prime beef which has been carefully hand-selected and inspected before it meets our stringent guidelines.
USDA prime beef is a superior and excellent grade of beef that is chosen above all other types of beef because of its tenderness, juiciness and generous marbling. Prime beef is also derived from younger beef, which is why it's texture and flavor it so remarkable and outstanding. Prime beef is the choice of many high-end steak restaurants because of it's distinction, taste, and quality, and McKendrick's Steak House has taken the art of a perfectly prepared steak to the next level.
Our Steaks
Our rich and flavorful signature 16-oz ribeye steak is hand-carved and thick-cut from our exceptional USDA prime rib roasts, then aged to perfection before they're ready for the table. Ribeye steaks are known for their thick, rich marbling and natural flavor that runs through the entire cut of beef. As these delicious steaks are being prepared, the fat from the marbling melts through the meat, creating a buttery and delectable taste in every bite.
We also offer the ultimate filet steak dinner that has been carefully hand-selected from the country's top USDA prime beef suppliers. We offer our exclusive 8-oz and 12-oz hand cut filets that are thick, juicy, full of flavor and extremely lean. On our menu, you can also find a bone-in 16-oz filet which offers the exquisite texture of a filet but is more rich and flavorful.
McKendrick's Steak House will show you why we're the Best Steakhouse in Atlanta by providing a fresh and exciting dining experience for a memorable dinner. Whether you are looking for a new place to enjoy a great dinner, or you're back for another one, you can always expect a great meal with us.
Best Steakhouse In Atlanta
McKendrick's Steak House
7705128888
4505 Ashford Dunwoody Rd, Atlanta, GA 30346
View Larger Map