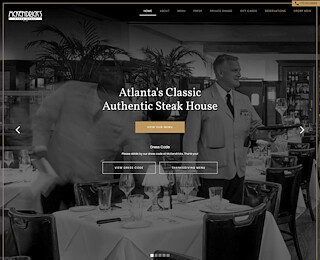 If the words ribeye, porterhouse and USDA prime beef make your mouth water, then there's no question that you are a true steak lover with exceptional taste and preferences. For those of us who understand that enjoying a thick and juicy steak is the ultimate dining out experience, only the highest quality of hand-selected steaks will fit the bill and quash your beef cravings. Looking for the Best Steak in Atlanta is your number one goal, and the culinary experts at McKendrick's Steak House provide the most abundant and most flavorful choice cuts of beef.
Since the beginning, McKendrick's Steak House has been recognized as the top-rated dining establishment that has centered our goals around providing the Best Steak in Atlanta. All of our signature USDA prime beef steaks are hand-cut, inspected and aged to perfection before they can qualify for a place at your table. When only the very best steak will do, you can always count on a memorable and delicious steak dinner that has been prepared and perfected by our world-renowned chef.
When you are seated adequately at your beautifully set table in our fantastic dining room, our attentive and knowledgeable staff of highly skilled servers will take care of your every need and desire. They will be there to assist you with any questions you may have and any suggestions for what type of steak you would enjoy the most. You find a great selection of the most elegant filet mignon, ribeyes, New York strips, porterhouse steaks and more, cooked to order and your exact specifications.
Providing our guests with the Best Steak in Atlanta is no easy accomplishment, and is a pleasure that we do not take lightly. Every one of our signature steak dinners is meticulously prepared with careful attention to detail and are complemented with our exclusive selection of homemade side dishes that complete a perfectly prepared steak dining experience. We also have a fine selection of tempting appetizers, crisp, fresh salads, seafood entrees and decadent desserts that you will want to save room for.
There are many opinions regarding which cut of steak offers the ultimate taste, texture and all around best flavor for a remarkable steak dinner. Our most popular choice for a fantastic steak dinner has to be our incredible 24-oz porterhouse steak which is always juicy, flavorful and a pleasure to enjoy. For those who feel that steak of that magnitude would be a little overwhelming, we also offer a great selection of other cuts of beef, such as our prime filet, our signature ribeye, a luscious and classic t-bone and more.
When you are craving an incredibly satisfying steak dinner that is masterfully prepared with the utmost care and distinction, McKendrick's Steak House is your destination for the Best Steak in Atlanta. You can book your reservation online, quickly and easily by merely leaving your contact information, and the time of your arrival or give us a call.
Best Steak In Atlanta
McKendrick's Steak House
7705128888
4505 Ashford Dunwoody Rd, Atlanta, GA 30346
View Larger Map