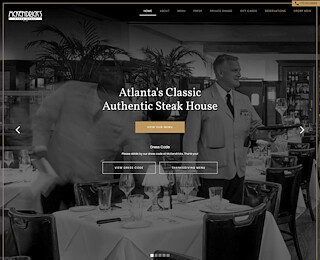 At McKendrick's Steak House, we serve the finest steaks and high-quality seafood in an intimate, yet energetic atmosphere. Our diverse menu will satisfy any cravings or desires, as we serve the freshest, hand-selected USDA prime steaks, succulent wild-harvested seafood, and shellfish along with creative and imaginatively inspired homemade side dishes and appetizers. We are not only the very best steakhouse in town, but we are also the number one choice for the Best Seafood Restaurants in Atlanta.
McKendrick's Steak House is modern and contemporary seafood and steak fine dining restaurant offering the freshest wild-caught seafood delivered daily to our kitchen. Our world-renowned chef and highly skilled kitchen staff prepare modern-day, and classic seafood selections created with considerable attention to detail and prepared to perfection. Only the highest quality of fresh premium seafood is acceptable to our highest standards of excellence.
When you are looking for the Best Seafood Restaurants in Atlanta, McKendrick's Steak House offers the best of both worlds, as we provide much more than the typical seafood restaurant. You can be sure that if seafood is what you're craving, we have the largest selection of juicy, tender fresh seafood appetizers, salads, and entrees. We also have our homemade fresh crab bisque, which includes a generous portion of lump crab meat for a rich and savory delight. We also offer our hand-selected, hand-cut USDA prime beef steaks that can complement any seafood dish you choose.
Lobster
If lobster is what's for dinner tonight, you can be sure that McKendrick's Steak House offers the freshest cold water lobster tails that are prepared over an oak-fired grill or lightly fried for a unique approach in lobster preparation. Your lobster dinner will include freshly drawn butter and is also served with our handcrafted signature dips and sauces to compliment your meal. Pair up your lobster tails with creamed, fresh spinach, garlic mashed potatoes or garden-fresh asparagus for dinner worth remembering.
Fresh Fish
McKendrick's Steak House also has the freshest fish filets and fish steaks that are prepared to order and cooked to your exact specifications. If grouper is your choice, we offer a delicious, flaky Gulf grouper dinner that will satisfy your fish cravings. For a rare and special treat, our sea bass steak provides a mild, yet flavorful taste and a rich and tender texture in every bite. Our signature Scottish salmon is perfectly delicious, and when complemented by our homemade side dishes, it's even that much more of culinary delight.
So, the next time you're thinking seafood, think McKendrick's Steak House as being one of the Best Seafood Restaurants in Atlanta. Whether you want to include a premium seafood appetizer, salad, bisque or entree in you dinner plan, we offer the finest selection of the highest quality of seafood and shellfish delivered right off the boat. Pair a seafood masterpiece with a premium cut of beef for a truly delicious and memorable dining experience.
Best Seafood Restaurants In Atlanta
McKendrick's Steak House
7705128888
4505 Ashford Dunwoody Rd, Atlanta, GA 30346
View Larger Map