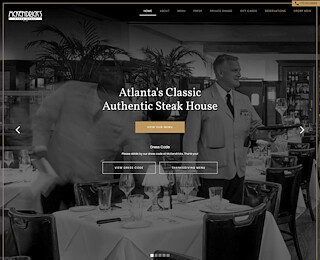 If you're looking for a great place to enjoy a special and memorable lunch or dinner, you may want to consider choosing McKendrick's Steak House for your next meal out. For over the last 20 years, we have been perfecting the art of preparing and presenting the most delicious and freshest foods available. As the leading establishment for the Best Restaurants in Sandy Springs GA, you can be sure that your meal will be created with care and attention to every detail to ensure a celebrated dining experience.
Time and time again, McKendrick's Steak House has been voted as one of the Best Restaurants in Sandy Springs GA, and throughout the entire region. We strive in providing you with a unique and exciting dining experience that offers only the freshest ingredients which create the most delicious lunches and dinners. As one of the most sought-after dining establishments in the area, we are open seven days a week with extended dining room hours over the weekend so you can be sure to have a chance to see for yourself what makes us so distinctive.
Private Dining
McKendrick's Steak House is also known for its private dining rooms which brings an entirely new dimension of excitement and adventure to your next special event. Whether you are planning a large holiday party or a more intimate setting for a few special guests, we have a large selection of menu ideas that can accommodate any gathering you are hosting. All of our private dining lunches and dinners include generous portions, starting with an appetizer, an entree, fresh side dishes, and dessert is also included.
Lunch
We have an extensive selection of delicious food items included on our lunch menu, which are offered every weekday. If you and your guests would like to experience a relaxing and enjoyable atmosphere the next time you decide to have lunch together, McKendrick's Steak House is sure to fit the bill. Whether you would like to keep it on the lighter side with a bowl of hot, homemade soup, or sample one of our signature salads or entrees, our lunch menu has something delicious for everybody.
Dinner
A freshly prepared meal at McKendrick's Steak House is something that everyone should try at least one time in their lives. Our world-renowned chef has been perfecting the art of culinary creativity and has taken it to the next level. All of our appetizers, entrees, side dishes and desserts are hand crafted and cooked to order to ensure the most flavorful and delicious selections of USDA prime beef, wild caught seafood, fresh garden vegetables and indulgent dessert selections.
The next time you are looking for one of the Best Restaurants in Sandy Spring GA, keep us in mind for a truly unique and exclusive place for you to enjoy some of the most excellent foods in the area. McKendrick's Steak House is the place where the locals dine, and the visitors look forward to returning. You can book your reservations online or simply give us a call.
Best Restaurants In Sandy Springs Ga
McKendrick's Steak House
7705128888
4505 Ashford Dunwoody Rd, Atlanta, GA 30346
View Larger Map